Carbon taxes are the perfect free-market solution to pricing pollution. Alberta and BC are Booming, and Quebec is also starting to turn its economy around.

Although California has cap and trade, their economy is also booming.
The thread is ammunition against #AlternativeFacts and Post-Truth politics on carbon taxes by politicians and their followers.
House Standing Committee on Environment

EXCERPTS: "The fact that we find ourselves here today discussing carbon pricing is telling – despite the fact that carbon prices of one sort or another have been implemented in Canada for more than a decade, opposition and misinformation about carbon pricing policies remains rampant.
"There is near-unanimity amongst economists that imposing a price on carbon emissions will deliver emissions reductions at the lowest cost to the economy. Why? Because leveraging the market through carbon pricing allows individuals and firms – those who know best their costs of reducing emissions or the value they derive from emissions – to decide when to emit and pay the carbon price and when to choose other actions. To derive the maximum benefit from these policies, prices should apply to as broad a set of emissions as is feasible. In what follows, I hope to address a few common questions which come up with respect to carbon pricing.
http://andrewleach.ca/uncategorized/house-standing-committee-on-environment/
"The Liberal carbon tax is just about raising revenue for government."

False: 90% of it goes back to citizens.
(bit.ly/2Rs8XF9)
"Consumers in the holdout provinces will receive federal payments that will exceed their carbon tax bill in a bid to cushion the blow"
(thestar.com/business/2018/…)

THE WAY FORWARD. The question is not if Canada needs to lower greenhouse gas emissions, but rather when and how.

The answer is now—through provincial carbon pricing. (ecofiscal.ca/wayforward)
It amazes me to no end why Conservatives always want to go backwards.

"Scrapping Alberta's current climate plan and reinstating SGER would be a complicated process. The federal government, much of the world, and the energy industry (with various degrees of willingness) have already moved in a different direction. Environmentalists say SGER never worked that well in the first place. And economists warn switching back to it could cause even more upheaval for the oil patch."
(cbc.ca/1.4583334)
The answer is now—through provincial carbon pricing. (ecofiscal.ca/wayforward)
"Europe's $38 billion a year carbon market is finally starting to work the way it was intended, reining in pollution with a minimum of squealing from industry."
(bloomberg.com/news/articles/…)
"Ecofiscal's latest report highlights why and how carbon pricing works, with case studies from British Columbia, California and the UK. Today, we'll build on those three and dust off a case study on Sweden, which has the world's highest carbon tax."
(ecofiscal.ca/2018/04/11/car…)
LIAR:
"Upon learning of the PBO report last week, Conservative Leader Andrew Scheer announced that the Liberal plan would "destroy the Canadian economy.""
(cbc.ca/news/politics/…)
"A new analysis by Environment and Climate Change Canada says that pricing carbon can significantly reduce carbon pollution while maintaining a strong and growing economy, according to a press release."
(energi.news/canada/study-c…)
This report presents a framework to identify genuinely complementary policies that can support carbon pricing.
(ecofiscal.ca/reports/suppor…)
Think the U.S. isn't moving on carbon pricing? Think again. Cap and trade is up and running in 10 states, and more want in (ow.ly/mbiL30ku3fa)
Carbon pricing is a key policy to build a clean, innovative economy

"…the world is moving to a cleaner, smarter, low carbon economy. That is not a left wing or right wing issue. It is an environmental and economic reality.
(ow.ly/clhk30kymfP)
"Scratch a climate skeptic, and you'll find an innovation pessimist. They don't believe it can be done. Overwhelmed by the scale of the problem, they assume that we can't change our trajectory."
(ow.ly/BG1330kEqEL)
Aren't conservatives supposed to *like* market-based policies?
(ow.ly/SDjD30jX9Nk)
@trevortombe:
"Multiple research papers ✔️
Consistent empirical results ✔️
Predicted by theory ✔️

…Entirely fair to disagree with CTaxes for any of a number of reasons, but if a politician tells you they 'don't work' they're deliberately lying…."
"The higher the carbon content of a good or service, the costlier it is for society. Carbon pricing is an incentive to move away from these costlier options."
(ow.ly/kXzM30jSDoU)
"Essentially, output-based pricing maintains the incentives from carbon pricing, but reduces its cost to firms to help them stay competitive." (ow.ly/A00S30lg6Ar)
"Everywhere you turn, politicians of a conservative bent are denouncing the climate-change measure as a pointless, economy-wrecking raid on people's pocket books."
(dlvr.it/QXrVqS)
"Forests cover almost 35% of Canada. They are both a tremendous asset and a source of disaster. In the face of climate change, scenes similar to those in Inland B.C. will increase in frequency. How do we reduce the likelihood of future catastrophes? And how do we get the most from our forests? Smart climate policy can help with both. But it's not all about stopping forest fires."
(ecofiscal.ca/2017/07/19/how…)
"China, the world's largest source of planet-warming carbon emissions, may have hit the peak it promised in the Paris climate accord well before its 2030 timetable. That's the conclusion reached by scientists who looked at the country's estimated carbon output between 2007 and 2016, as the country's rapid industrialization slowed and its consumption of coal declined. The research is published in the journal Nature Geoscience."
(ow.ly/gSBN30luHyr)
"The EU carbon market has been the hottest commodity market in the world over the last 16 months…."
INFOGRAPHIC via @CarbonBubble
(ow.ly/62aT30lvCKZ)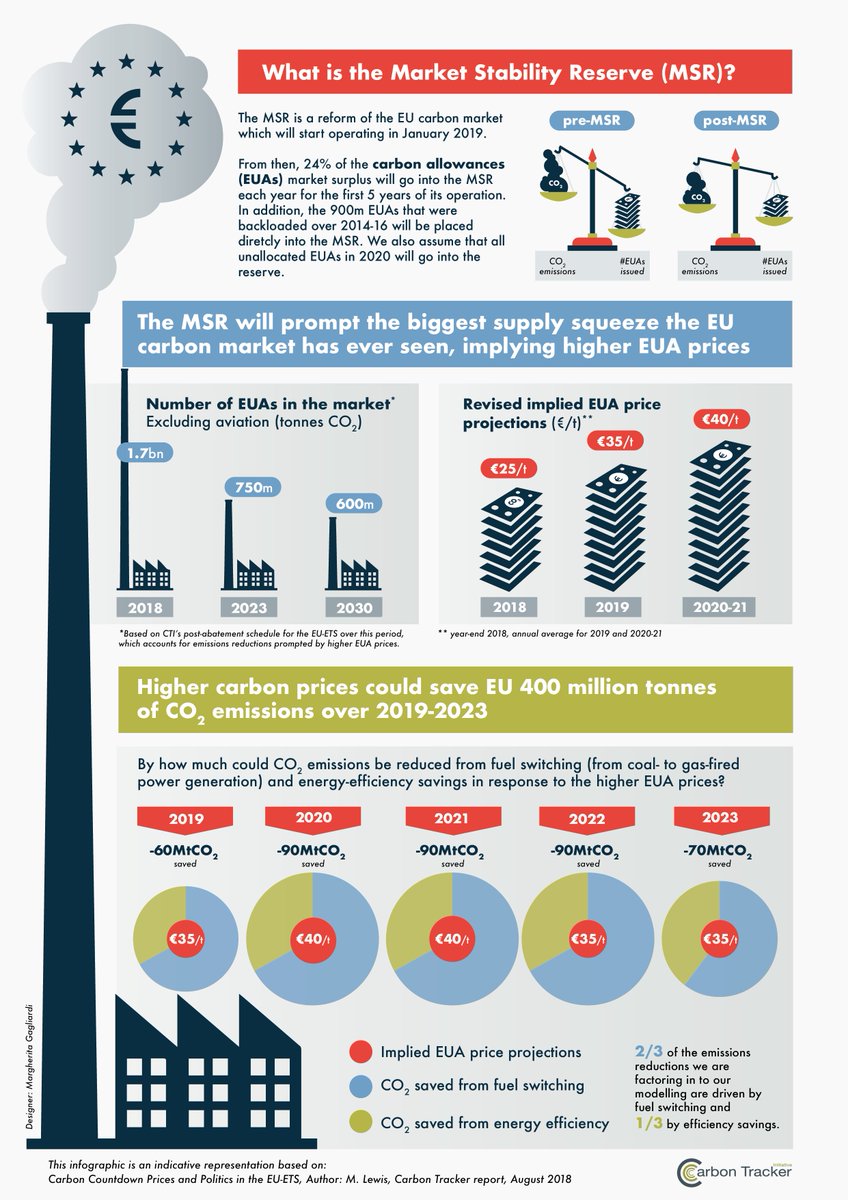 @EcofiscalCanada: The world is moving ahead with climate action. Choosing to backpedal on #climate policy is choosing to take a free ride on progress elsewhere
(ow.ly/bSOY30ly0ui)
"Federal Carbon Price System 90% Revenue Neutral – Small Business Tax Cut Could Make it 100%"

The Executive Director is Stephen Harper's former policy director, Mark Cameron.
(cleanprosperity.ca/2018/10/23/cle…)
The study, which will be released next week, is by Canadians for Clean Prosperity, a non-partisan group led by Mark Cameron, ex-policy director to Stephen Harper
(nationalpost.com/opinion/john-i…)
If the federal government sends out cheques and they are generous enough, it would force the Conservatives to commit to cancelling what is in effect a tax cut
(nationalpost.com/opinion/john-i…)
Good thread @kevinmilligan:
"… I suspect that if the prime criticism of the carbon backstop is that provinces like QC and BC will be jealous they're not also covered by the awesome carbon backstop, it will be a good day for the government.)"
"Exxon's support comes at a time when U.S. lawmakers remain at an impasse over putting a price on greenhouse gas emissions, with many Republicans opposed to a carbon tax or cap-and-trade system. The policy vacuum at the national level threatens to leave energy companies grappling with a patchwork of state and regional policies. "
(cnbc.com/2018/10/09/exx…)
Output-based subsidies that reward most efficient producers help maintain competitiveness, executives say
(cbc.ca/news/canada/ca…)
"What's the point if you're just giving the money back? Today, I'll use some simple economic theory to explain how this approach not only maintains incentives to reduce GHG emissions, it can help households pocket more savings (it'll be fun, I promise)."
(ecofiscal.ca/2018/09/26/how…)
"Here's how OBAs work. EITE firms are allocated emissions credits based on their level of output (the O in OBAs). The number of credits or "allocations" (the A in OBAs) that they get depends on a sector-specific performance standard, which sets a benchmark for tonnes of GHG emissions per unit of output. Effectively, firms get an amount of credits that corresponds to what their total emissions would have been if their emissions intensity of production had matched the standard. They then pay the carbon price only on the emissions that they don't have enough credits to cover."
(ecofiscal.ca/2017/05/24/exp…)
"But there are signs that more meaningful action isn't out of reach. The European Bank for Reconstruction and Development has declared that solar- and wind-power projects are now the cheapest new power plants to build almost anywhere in the world (paywall). The World Bank has vowed not to fund any more coal-power projects and it has established an internal carbon-pricing system to decide whether to fund any new project.
The influential corporations that aren't toeing the line are being targeted. Climate activists aren't just going after the usual suspects, such as Big Oil, but also after pension funds that finance fossil-fuel firms (paywall)."
(ow.ly/Qw9930mzRh8)
Bank of England governor says firms must acknowledge risks to avoid 'catastrophic impact'

For those who don't remember, Carney was our Bank of Canada Governor
(theguardian.com/business/2018/…)
@EcofiscalCanada: Canada is a top-10 global emitter, the only one with a population under 100 million.

If we don't embrace sensible climate policy, why would smaller nations bother?
(ow.ly/tM5030k8PRB)
"You made stuff up about regressive impacts on low income Albertans."
https://twitter.com/ElkeBabiuk/status/1080343929302638594
Suncor CEO Steve Williams: "It is a matter of profound disappointment to me …that science and economics have taken on some strange political ownership—why the science of the left wing is different than the science of the right wing."
(theglobeandmail.com/business/rob-m…)
Shell Exec, Dave Collyer: "So, I think when you sum it all up, as a relates to the energy file, she has been very solid…."
(energi.news/markham-on-ene…)
There's a big profit to be made from supplying energy "… without incurring the [carbon] tax."
(cbc.ca/radio/asithapp…)
"B.C. implemented its carbon tax in 2008, and although emissions have fallen per capita, they've risen overall. What's up?

Does the B.C. carbon tax mean we should change our tune on carbon pricing? …No."
(ecofiscal.ca/2017/05/17/cou…)
"Measuring the effectiveness of carbon pricing—like all good policy analysis—requires isolating the impacts of the policy. Otherwise we can come to false conclusions…."
#cdnpoli #bcpoli
(ecofiscal.ca/2019/01/09/car…)
03/08/17. Conservative elder statesman Preston Manning is advising the Conservative caucus to lay off attacking the market-based concept of carbon pricing.
https://ipolitics.ca/2017/03/08/manning-calls-on-conservatives-to-stop-attacking-carbon-pricing/
The Agenda welcomes energy economist Mark Jaccard, to discuss why he recommends flexible regulations – or "flex-regs" – rather than carbon tax as a way to reduce emission
TVO Video: https://www.tvo.org/video/programs/the-agenda-with-steve-paikin/flex-regs-for-the-win