Conservative collusion with the oil industry, stacking the NEB with industry insiders, & gutting Canada's environmental protections led to the failure of Northern Gateway (NG), TMX, the creation of #IdleNoMore, entrenched pipeline opposition, and #cdnpoli #abpoli #bcpoli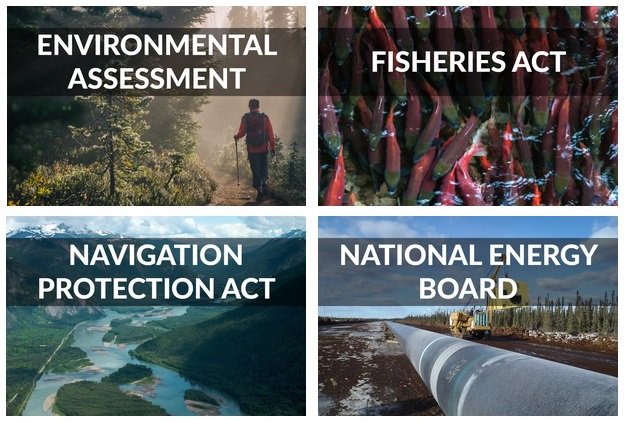 to Bill C69 and:

Fisheries Act no longer protects most fish

Navigable Waters Act doesn't protect most lakes/rivers

Environmental Assessment Act replaced with a skinny law probably written on a napkin

Round Table on Environment & Economy dismantled

But Harper wasn't done!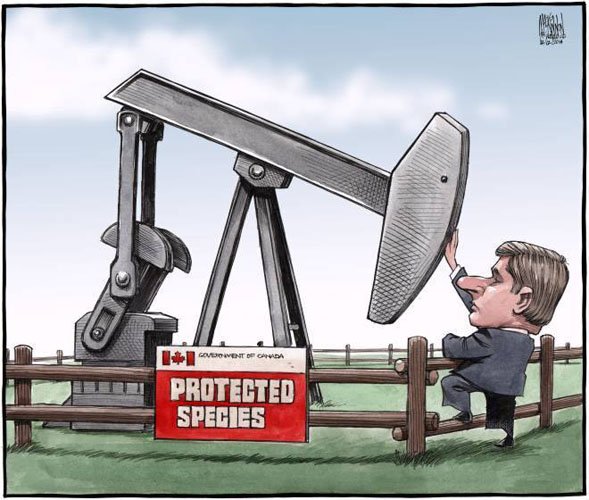 He demonized the environmental movement & aboriginal groups, and laid the groundwork for conspiracy theories: anti-oil-activists were a threat to national security, were "eco-terrorists" or "violent aboriginal extremists", & that foreign money was blocking oilsands expansion.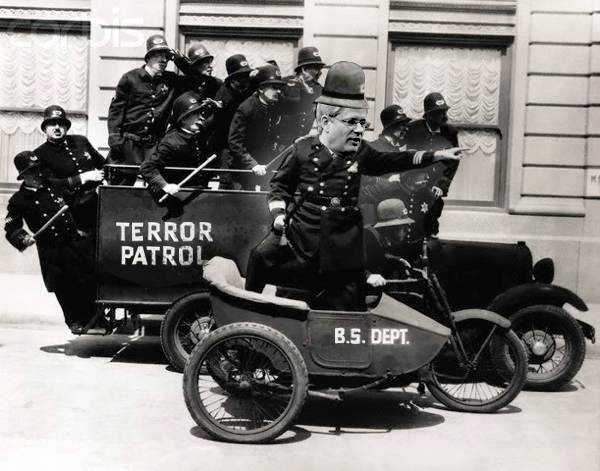 The Harper Gov thus paved the way for an aggressive, politically-motivated witch-hunt against legitimate Environmental Charities/NGOs .

The story begins with Gateway, Trans Mountain, Energy East, Keystone, and ends with failure, yet Conservatives blame the Liberals!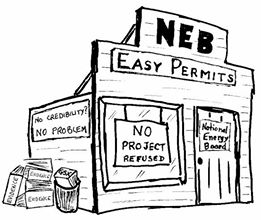 Let's look at why, when, & where it started.

The prelude to NG was: "A Love letter to Harper from the oil industry" (huffingtonpost.ca/yan-roberts/om…)
With "Stephen Harper's relentless oil and gas boosterism", he eventually became "Oil's worst enemy."

By protecting/promoting the oil sector, "the Harper government effectively shackled Canada's pipelines in purgatory" (macleans.ca/politics/ottaw…)
The oil, gas, and pipeline industries wanted changes to the NEB Act, Canadian Environmental Assessment Act, Species at Risk Act, Fisheries Act, the Navigable Waters Protection Act, and they wanted to throw First Nations under the bus!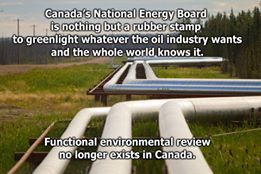 Stephen Harper blatantly put industry interests over the interests of Canadians, and the protection of our land and waters. Criticisms were swept aside when he passed the most sweeping changes to environmental law in Canadian history: Bills C38/C45.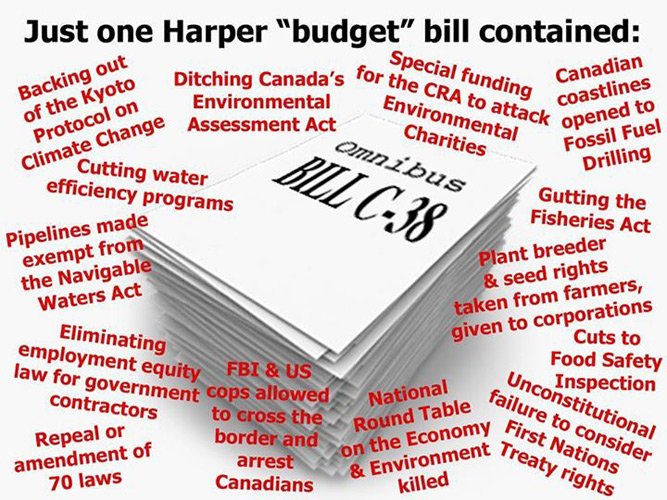 Bill C-38: the Environmental Destruction Act.

Elizabeth May: "The good news in this is that Stephen Harper knows that his base would hate a lot of what's in C-38." (thetyee.ca/Opinion/2012/0…)
Opposition and environmental groups express outrage as Bill C-38 goes to Senate.

"We want stronger, not weaker environmental laws in Canada…." (vancouverobserver.com/politics/oppos…)
Bill C-38 was an affront to all Canadians and showed us "how far Parliament has fallen" (nationalpost.com/opinion/andrew…)
Harper moves to streamline B.C. pipeline review process. Conservatives complain that PM Trudeau killed NG in Council, yet Harper gave Cabinet the authority to override the NEB b/c he was scared they might nix a pipeline! Unintended consequences indeed! (thestar.com/news/canada/20…) DOCUMENTS, Bill-C-38: West Coast Environmental Law. What Bill C-38 means for the environment (wcel.org/sites/default/…)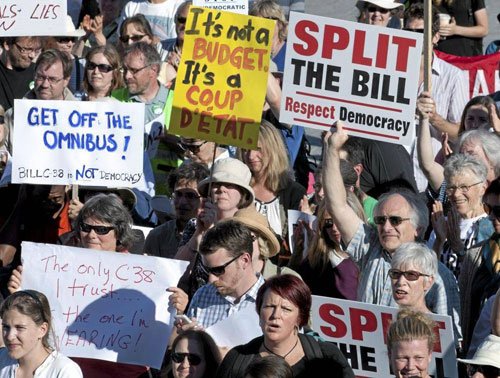 DOCUMENTS, Bill C-38: Jobs, Growth and Long Term Prosperity Act

[aka the Environmental Destruction Act] (parl.ca/DocumentViewer…)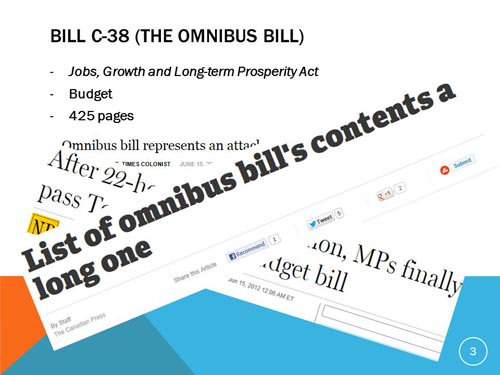 DOCUMENTS, Bill C-45 Historical: Jobs and Growth Act, 2012.

A second Act to implement certain provisions of the budget tabled in Parliament on March 29, 2012 and other measures (openparliament.ca/bills/41-1/C-4…)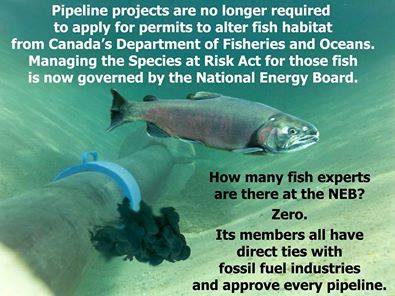 DOCUMENTS, Back on the Omnibus with Bill C-45:
Another Omnibus Budget Bill Drives More Change to Federal Environmental Law [commentary] (elc.ab.ca/Content_Files/…)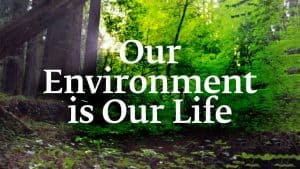 DOCUMENTS by Macleans, Bill C-45 (macleans.ca/wp-content/upl…)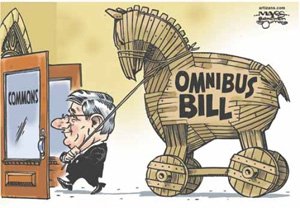 Bill C-45 was a massive omnibus bill weakening environmental protections, Indian land rights, Fisheries Act, Navigable Waters Protection, and the Indian Act making it easier to redesignate native reserve lands & strip protections from thousands of lakes & rivers.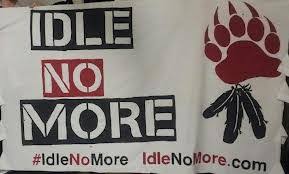 Table of Contents to C-45 in Macleans. It was undemocratic, created #IdleNoMore, and did an end run around the Indian Act. (macleans.ca/tag/c-45/)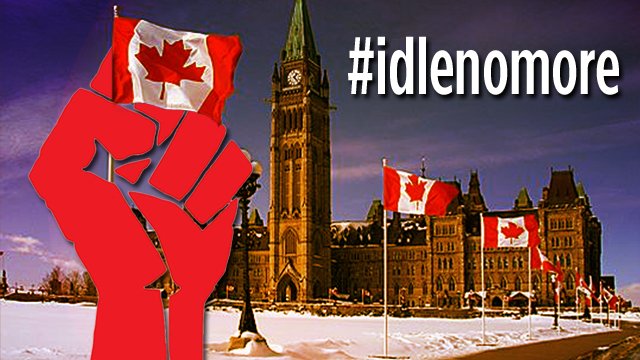 Changes to Navigable Waters Protection Act dangerously undermine environmental protection, say critics [and #IdleNoMore gains ground] (vancouverobserver.com/politics/chang…)
Harper government bills that sparked Idle No More

"Never in history has there been so many bills regarding and impacting First Nations been pushed through the House of Commons at one time…." (vancouverobserver.com/politics/harpe…)
'Idle No More' and colonial Canada

"…the need for fundamental change in the relationship of First Nations and the Crown" was "nearly unimaginable prior to Idle No More." (aljazeera.com/indepth/opinio…)
Amendments to omnibus budget bill — Bill C-45 — fail to pass

Neither Bill C-38 nor Bill C-45 were about jobs, growth or the budget. Over 3,000 amendments not considered. (thestar.com/news/canada/20…) As #IdleNoMore gripped the country with nationwide protests, Harper was silent.

Stephen Harper accused of fostering racism, hatred of natives with silence over Idle No More (nationalpost.com/news/canada/st…)
Ottawa's new anti-terrorism strategy lists eco-extremists as threats (theglobeandmail.com/news/politics/…)
Following news that the RCMP considers anti-oil-industry activists a national security threat, we spoke to some of the activists who have been on the front lines of the fight to salvage Canada's environment. (vice.com/en_ca/article/…) Radicals working against oilsands, Ottawa says. Environment groups 'threaten to hijack' system, natural resources minister says (cbc.ca/news/politics/…)
Sierra Club latest environmental charity hit by Revenue Canada audits. Group's director calls political-activity audit an 'abuse of power' by Harper government (cbc.ca/news/politics/…)
I included numerous articles on the NEB b/c the history, changes to the Act, and the industry insiders appointed are important.

Harper destroyed public trust and it's b/c of this that we have Bill C-69 with Conservatives once again blaming PM Trudeau for their failures!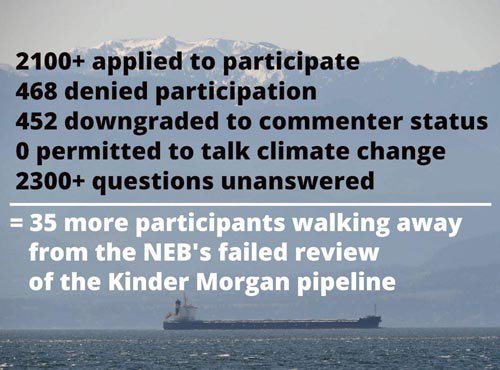 National Energy Board: Captured Regulator? What happens when watchdog becomes lapdog?

""As an industry facilitator, it's a success," says 56-year-old Core." But as a regulatory watchdog, it's passive." (thetyee.ca/Opinion/2011/0…)
Energy Board Act changes in Budget 2012 fit petroleum association prescription (ipolitics.ca/2013/02/20/ene…)
National Energy Board's credibility as an independent agency at stake: Hébert

Before the election, Harper appointed dozens of industry insiders and Conservative cronies to various boards and agencies. NEB got a full roster! (thestar.com/news/canada/20…) National Energy Board's impartiality over pipeline decisions questioned (cbc.ca/news/canada/ne…)
Harper gov't appoints Kinder Morgan consultant to NEB

"The NEB have totally become a captured industry regulator…." More than half of the NEB board members are petroleum industry professionals who are tasked with reviewing environmental effects! (nationalobserver.com/2015/08/01/new…) Harper gov't appoints another oil and mining exec to NEB (nationalobserver.com/2015/07/03/new…)
Members of Canada's pipeline regulator should resign en masse, says former energy exec

"Eliesen has four decades of experience as a chief executive at provincial energy corporations…." (nationalobserver.com/2017/02/07/new…)
A 'farce' and 'fraudulent process' [Letter included]

Eliesen was one of the interveners who withdrew because the process was "deceptive and misleading" but not before he wrote a scathing letter. (vancouversun.com/Pete+McMartin+…) Robyn Allan pulls out from Trans Mountain pipeline review. Allan is the second high-profile intervenor to withdraw from the Trans Mountain review

The NEB "is not conducting this review on a level playing field and it's not an impartial referee…." (cbc.ca/news/canada/br…)
Harper guts more fish protections: NEB takes over habitat along pipelines

This was very likely to diminish First Nations' constitutional rights to consultation and accommodation. (commonsensecanadian.ca/harper-guts-fi…) National Energy Board refuses to accept study on diluted bitumen

"The study, Spills of Diluted Bitumen From Pipelines, was released by the Washington, D.C.–based National Academy of Sciences (NAS) on December 8." (straight.com/news/602366/na…)
Canadian charities feel 'chill' as tax audits widen into political activities (thestar.com/news/canada/20…)
Ignoring Harper's destruction, in order to give AB the pipeline they wanted, LIBs approved TMX. That led to court failure, and still people blame the LIBs for the process!

Poor protection of waterways paved the path for Trudeau's pipeline approvals (rabble.ca/blogs/bloggers…)
The Gov did more consults with FN to satisfy unrelenting Conservative criticism to fast-track TMX but it failed in court b/c consults were too cursory.

The Gov purchased TMX and is doing further consults so:

'People should just calm down' (cbc.ca/news/business/…)
As we wait for Conservatives to look in the mirror, we hear them fear-mongering about Bill C-69, demanding the LIBs to"Kill the Bill"! It's not perfect, but not fully flawed either

Anti-Bill C-69 rhetoric is not just misleading, it's irresponsible (wcel.org/blog/anti-bill…)
THE UNIVERSITY OF CALGARY FACULTY OF LAW BLOG, Sept 25, 2018.

Bill C-69's Detractors Can Blame Harper's 2012 Omnibus Overreach (Blog Edition)

Someone give the Conservatives a mirror please! (ablawg.ca/2018/09/25/bil…) Bill C69 deep dive: Flawed legislation but not quite a Liberal plot to sabotage future Alberta pipelines

If Conservatives want Ottawa to Kill the Bill & modernize the NEB instead, they need to convince politicians & public the NEB was not broken! (energi.news/quarterly-seri…) Stephen Harper & Conservatives waged war not only on our Environment, but on Science, & institutional knowledge too.

The Canadian War on Science: A chronological account of chaos & consolidation at the Department of Fisheries & Oceans libraries (scienceblogs.com/confessions/20…)
Stephen Harper: The environment's best friend (thestar.com/opinion/commen…)
______________________________